Nigeria Pictures and Images
This is a complete collection of Nigerian pictures from the days of thatched houses in the northern part of the country to this computer age. lets start from the beggining
this is the kind of house built in Nigeria in the early nineties as it is fondly called it is made of mud and a thatched roof. It is constructed in a day or two by able bodied young men who dig up mud, beat and mould it to houses.
Second and additional paragraphs go here.
Subscribe Below to Receive My Free Weekly Recipes.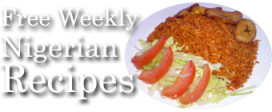 All Business Requires an Internet Presence, you need to tell the rest of Nigeria about Your Business or Service
Improve Your Business - Add Your Stuff