Nigeria Business Review
This page was created mainly for visitors testimonies, lots of people created a business page on our site recently and some are beggining to see a positive result while many are yet to hit it.
Have you recieved calls from anyone claimimg they found you from the internet?? tell us here! Did they buy from you or ordered your service?
We want to know if this is working for you and how to improve the site to give Nigeria the expected result. we want to give more exposure to Nigeria busineses, we want you to be found by those that reqire your goods and services.
If you haven't created your own business page you can do so imediately here - Add Your Stuff
If you have a page already tell us what is happeniong.
Use the comment box below, I want to hear your stories.
Tell us, tell the rest of Nigerians!
Subscribe Below to Receive My Free Weekly Recipes.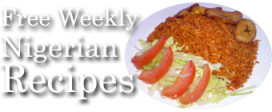 All Business Requires an Internet Presence, you need to tell the rest of Nigeria about Your Business or Service
Improve Your Business - Add Your Stuff