Download Schidi - Adim Oku
You can get the latest rave of the moment here, Adim oku is the latest song to look out for. I think this song is a bomb!!! unlike whatever you have seen or imagined, this guy really got da magic, the swag, de charisma... you name it.


Schidi is one of Nigeria's uprising musician, he aims to make a statement with this song, and he did make a statement. Adim Oku is one of many tracks that is coming from Schidi (de Bururuxa)
This song has only been in the winds for few days and the world is going wild over it.
You wanna hear what I think about this track? well I think it is hot! it got some electricity and you better be ready to get electrocuted with more tracks from SCHIDI
DOWNLOAD ADIM OKU
Join in and write your own page! It's easy to do. How? Simply click here to return to talk to Nigerians.
Subscribe Below to Receive My Free Weekly Recipes.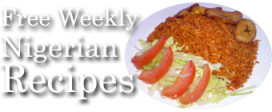 All Business Requires an Internet Presence, you need to tell the rest of Nigeria about Your Business or Service
Improve Your Business - Add Your Stuff