Consultant, Entertainment and the Arts (Specializing in Publishing and Production)
by Mary Janita L. Williams
(Waldorf, Maryland, USA)
Black Arts Movement
I am a Consultant in Washington DC, Metro Area, I specialize in publishing and production.


I consult for several companies; for profit and non-profit in the Washington, DC Metro Area. I produce several Talent Showcase Open Mics and I am also a Youth Advocate for an organization called Expanding Horizons; ages 14-21. I'm a self-published poet and author as well. I have an entertainment company here in the states as well and I am looking for new and innovative artists that do and can 'Think Outside Da Box'.
Thanks and peace
Mary Janita L. Williams
Consultant, Entertainment and the Arts
240-253-7783
Subscribe Below to Receive My Free Weekly Recipes.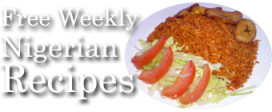 All Business Requires an Internet Presence, you need to tell the rest of Nigeria about Your Business or Service
Improve Your Business - Add Your Stuff